Look good, feel good. New clothes can lift spirits and that helps parents age well.
Most women like to look good, yet aging issues, including lack of energy, may dampen a woman's enthusiasm for buying clothes. Mother's Day provides a chance to update older women's wardrobes. For fashionista's daughters, shopping for Mothers is fun; for others it's a chance to help frumpy-dumpies look good.
Have you noticed? older fashionistas dress skillfully to hide figure faults that accompany aging. Flabby arms, unflattering waistlines, sagging what-evers, are some of the culprits. Flattering tops (collar or not), with longish sleeves, can hang gracefully over a large waistline and/or hips. They can hide a multitude imperfections, as well as nicely pull an outfit together.
My 101 year-old mil's favorite clothing catalogs (now on-line) are below, carrying a wide variety of  smart, well-priced clothing and accessories for women ages 50+++. No wonder they're popular with many older women, as seen by the commenters' ages.
Appleseeds: (855) 737-2574 –Read the comments as you view items you are considering. eg. 2 of 7 comments about this Appleseeds sweater: "Perfect Fit and Purchase Price. Love this sweater…..goes with any solid color….very pleased." (Age 75 & over) "The soft colors of spring wrap you in warmth and comfort when you wear this great sweater. It is light weight yet warm, goes with just about anything…"(Age 65-74).  Machine washable cotton.
Pants, shirts, skirts, sweaters, jackets, coats, pant suits; accessories, handbags, shoes, gifts–you name it, Appleseeds has it.
Chico's: (888.855.4986) store locator.The styles below can cover up many figure faults. 27 commenters ages 50+ to 70 make this "Kelli Cardigan" worth a look–especially at the sale price. The Caitlin Ruana is also popular with the 60-70-year olds, having average and curvy body types. (Click images) .
Draper's & Damon
's
: (800-843-1174)
store locator
in 5 states– advertises "Chic comfort fashions for mature women." Sr. Advisor R has purchased from their catalogues for decades. Click the link to view well-coordinated outfits, good styles, and popular manufacturers like Alfred Dunner and Brownstone Studio. D &D is especially popular with 54-75-year old shoppers— on-line, through catalogs, or in the 5 states where store are located.
     Women ages 54 to 75+ purchased and love this blue
mosaic mum shirt jacket

.
Ditto for the
Hand-painted Silk Kimono,

which I just noticed is on back order, expected May 22. (If you love it, copy the picture and put it in a small box for Mother's Day.) 
 Also check out  this
SALE
link, and/or
Clearance link
where this blue top is $19.97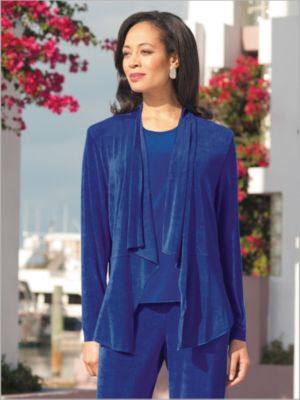 Mother's Day Gifts, What's a Daughter to Do? continues with Part 2 on Saturday.
Note: Clicking on each image will take you to site and item's details.
Related: Click "Great Gifts" tab under header
Check out "Newsworthy" (right sidebar). Links to timely tips, information and research from top universities and respected professionals–to help parents age well.