This Huffington Post article "5 Tips…" is cleverly written; clearly aimed at women  younger than most of our parents. Yet, cleverness aside, some aspects of these tips about physical changes and looking good apply to those much older, if my senior advisors are any indication.
My older-women take on 4 of the tips from the HP + one from Sr. Advisor R (99) concern:
Eyebrows and eyelashes
Temporary hair coloring (thinning hair not mentioned)
Changing feet
Reality-based shopping
+ Finger Nails
Eyes and hair can make people look attractive–or not. Can't this be a vicious cycle affecting how others interact with them–especially semi-strangers (store employees, receptionists, even doctors and dentists initially)? I've watched semi-strangers' reaction to Sr. Advisor R over the years. They are impressed and heartened, sometimes comparing her to their parents, sometimes wondering how she does it; always respectful (never dismissive).
As noted in prior posts, R is always in order–hair and eye make-up perfect–before she'd step one foot outside the house. It's pride.
If people never had pride in their appearance when young, they no doubt won't have it in old age. On the other hand, when once-good-looking parents start to become careless about their looks, they're probably beginning to lose interest. Is "look good, feel better" tied to emotional health and probably to physical well-being down the line? If so, isn't  it in everyone's best interest to support looking good?
Now 3 weeks away from her 100th birthday, her eyelashes and eyebrows have indeed lessened. Even at her age she uses a "good eyeliner" (L'Oreal) and Lancome mascara and adds color to her eyebrows when going out.  Yet she says "recently they've (eyelashes) suddenly grown a little; but I'd look like little Orphan Annie if I didn't use eye make-up." And her mirror–"a must have"– enables her do her eye makeup as well as see the back of her head to make sure her hair looks good front and back.
It takes a lot of patience for R's thinning hair to be just the way she wants it, and it has been a challenge for several decades. Her red hair has faded over the years–goes well with her complexion. R has never colored her hair nor used the temporary hair color that prevents people's roots from looking unkempt (Huffington post link above has details.) She's a fan of Toppik for covering the balding spots.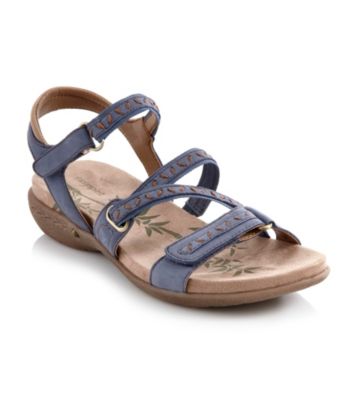 R is many inches shorter than she was as a girl (wonder if our generation's taking calcium will make this less of a problem) and feet do change, do get wider. R finds Easy Spirit sandals with velcro solve the problem for her in warm months, and says in earlier days (before velcro in adult shoes) she sometimes needed to buy 2 pairs of shoes a size apart to take care of the problem of one foot being wider than the other.
On a personal note, until a bit over a year ago I was able to wear any shoes in my size and sometimes needed to break them in before they felt good…but good they always felt, eventually (just as the article points out). I no longer do that. HP got that tip right.
Lastly, Sr. Advisor supplies the finger nail tip. Saying finger nails break more easily, become less strong, crack vertically, and get ridges as people age, she recently started putting Vitamin E oil (bottle about $7.95 at CVS)  on her nails and finds it has helped strengthen them.
*                     *                      *
If we're immersed in health issues with aging parents, the above tips could seem frivolous. Nevertheless, these tips give us a "heads up" for what's ahead and offer some practical help so older and old women continue to age well.
Related: Older Women's Thinning Hair: Styles and Instructive Links
New: "Of Current Interest"(right sidebar). Links to timely information and research from top universities about cancer, dementia, Parkinson's, plus some fun stuff–to help parents age well.