Also Click Great Gifts tab above
Fashionable, Appropriate Clothing and Accessories:
7 Excellent Sites 
A never-worn St. John knit hangs in my closet.  Normally a very pricey label, it was so inexpensive (a "buy" you can find in NY). I couldn't resist getting it for my mother years ago–her size, her color, two piece. But she never wore it.  Why?  At age 83, she tactfully told me that she didn't wear short sleeves because of flabby arms. Who knew?
Something to think about when selecting clothing: older women's particular wants and needs, as well as challenges.  Can can they button and unbutton easily? What about hooks and eyes? clasps to necklaces? things that zip, button in back etc. etc.  Do they want to downplay/hide certain parts of their body?
Senior advisor R, 99, still uses catalogs…and always looks well-put-together. Check out her favorite catalogs and their URLs. If you want to entertain your mother, while getting an idea of what she likes, check them out together.  (In counseling we call the latter "a hidden agenda.")
Appleseeds www.appleseeds.com (800-767-6666) The $79.95 washable, red Cascade Ruffle Pointe knit jacket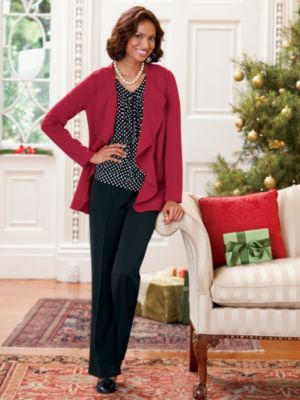 could be a "must-have" for the holidays. (A woman 65+ reviewed it.)Pair it with black pants and a festive top. Pants, shirts, skirts, sweaters, jackets, coats, pant suits; accessories, handbags, shoes, gifts–you name it, Appleseeds has it. They carry Women's sizes. Click the Santa's weekly specials. The "Ruffled Front Boiled Wool" jacket, that comes in various colors, could pull an outfit together nicely in colder climates.
Chico's chicos.com (888-855-4986), has online shopping, as well as bricks and mortar stores. Attractive clothing, jewelry and accessories suitable not only for us, but for women of all ages. Check out online: the Mesh Marine cardigan $53+ (hand wash), and Traveller's Collection Bree cardigan $65+
(machine washable) that add a contemporary look and can hide "a multitude of sins" (as they used to say) for older figures. Their ever-changing sales have just changed again, so always check them out along with Today's Deals.
I visited a Chico's store recently. I'm told older women especially love their jackets (which also include "cardigan sweaters;" cardigan sweaters are in the sweater category as well) and jewelry. Indeed a well-dressed older woman was trying on a jacket at a bricks and mortar store in Arizona.
Coldwater Creek www.coldwatercreek.com (1-888-678-5576) emerged from bankruptcy with new ownership, as an online business (no bricks and mortar stores for the time being at least), in November 2015. Many were saddened to see the "Going Out of Business" signs last summer and hopefully will have expectations met with this new business model. While offerings are relatively small as the business gets up and running, they continue to carry all sizes (petite to plus), accessories, a clearance ……. , offer customer service by phone. This link explains the difference between the old and the new (http://www.coldwatercreek.com/about-us/about-us.html),
Don't want this to be too long; list will be continued next post.
Happy Shopping!